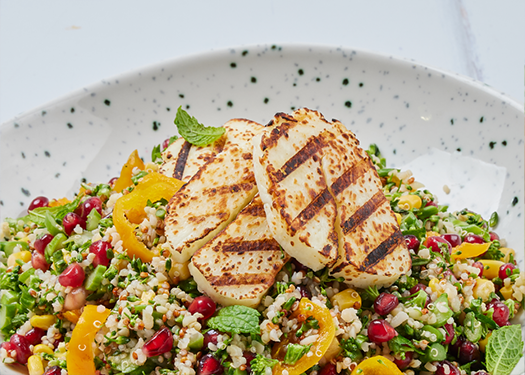 17 Aug

Zesty Tabbouleh with Halloumi & Pomegranate
Zesty Tabbouleh with Halloumi & Pomegranate
A quick and easy salad with minimal cooking of fluffy tabbouleh or giant couscous with blitzed broccoli, PEPPADEW® Yellow Piquanté Peppers, pomegranate, and seared halloumi dressed with a mix of olive oil, lemon juice, garlic, mint and parsley.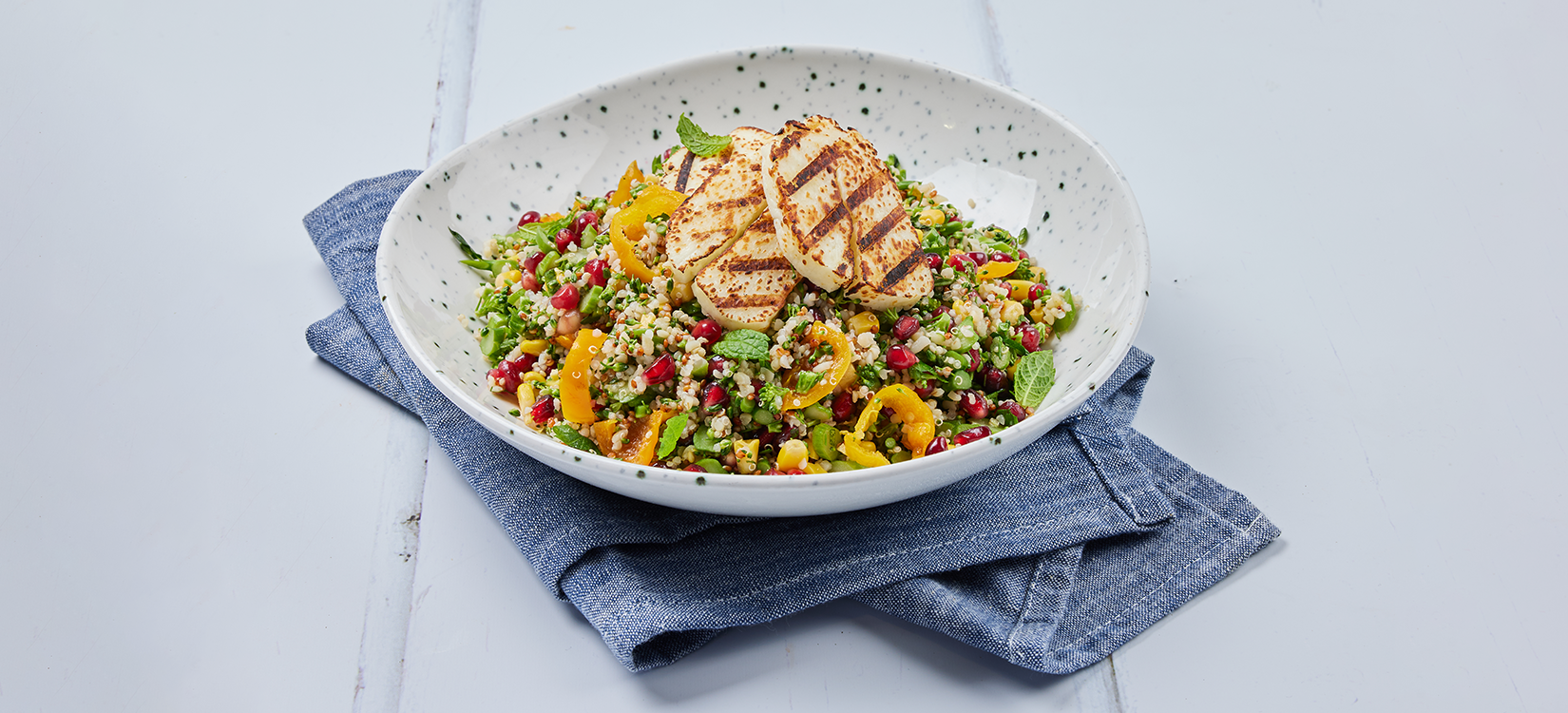 For the salad:
200g tenderstem broccoli
100g tabbouleh and quinoa mix, cooked as directed on the pack
80g pomegranate seeds
100g tinned sweetcorn, drained
6 PEPPADEW® Yellow Piquanté Peppers, chopped
1 tbsp fresh parsley, chopped
1 tbsp fresh mint, chopped
For the dressing:
1 lemon, grated rind and juice
1 tbsp extra virgin olive oil
1 clove garlic, peeled and crushed
Salt and freshly ground black pepper to taste
To serve:
Finely chop the broccoli in a food processor (or by hand) and then blanch in boiling water for about 30 seconds. Drain and rinse with cold water.
Mix the broccoli with the tabbouleh and quinoa and stir in the remaining salad ingredients.
Mix the dressing ingredients together and stir into the salad.
Preheat a griddle pan and sear the halloumi for about 1 minute turning halfway through cooking until lightly charred and slightly softened.
Divide the salad between 2 serving plates, top with halloumi slices and serve.
Couscous can be used in place of tabbouleh and quinoa.
Lunch, dinner, picnics, parties, packed lunch.