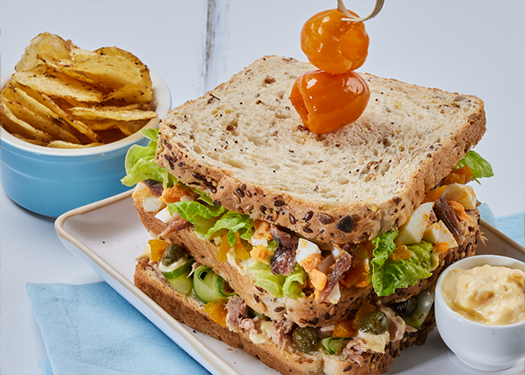 17 Aug

The Ultimate Tuna Sandwich
The Ultimate Tuna Sandwich
A triple-layer sandwich of mixed grain bread topped with PEPPADEW® Yellow Piquanté Peppers, blitzed with mayonnaise, mixed with drained canned tuna, capers and cucumber slices and a layer of sliced boiled egg, lettuce, and slivers of anchovy. Stacked and served, sliced into fingers or wedges.






5 PEPPADEW® Yellow Piquanté Peppers, diced
3 tbsp mayonnaise
6 slices multigrain bread
110g canned tuna, drained
1 tsp capers
¼ cucumber, cut into ribbons
2 romaine lettuce leaves, chopped
1 large egg, hard boiled, peeled and chopped
4 anchovies
Blitz the Yellow Piquanté Peppers with the mayonnaise in a food processor (or finely chop by hand and mix with the mayonnaise) and spread onto each slice of bread.
Mix the tuna and capers into the remaining Yellow Piquanté Pepper mayonnaise.
To assemble the sandwiches; lay the cucumber ribbons onto 2x slices of bread and top each slice with tuna, place on a second slice of bread (mayonnaise side up) and top with lettuce, egg and anchovies. Cover with a third slice of bread (mayonnaise side down). Portion and serve.