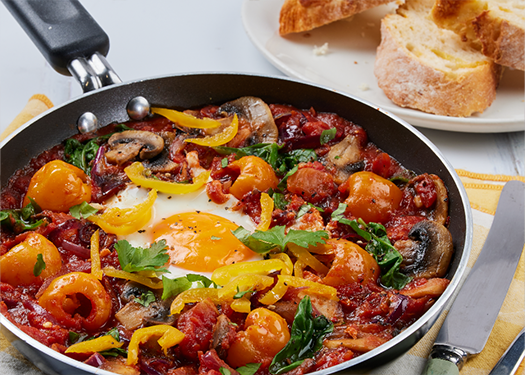 17 Aug

Shakshuka

Free-range eggs are lightly poached in a mildly spiced tomato sauce with red onions, PEPPADEW® Yellow Piquantè Peppers, baby spinach, and sliced mushrooms and served with fresh crusty bread. For a more substantial version add diced potatoes or mixed beans to the tomato sauce.






1 tbsp oil
1 red onion, peeled and thinly sliced
1 fat clove of garlic, peeled and crushed
1 tsp harissa
400g tin of chopped tomatoes
100g mushrooms, sliced
2 handfuls spinach leaves
50g PEPPADEW® Yellow Piquanté Peppers, drained
Salt and freshly ground black pepper to taste
4 large eggs
1 tbsp flat leaf parsley, chopped
Heat the oil and fry the onion for about 5 minutes until softened – add the garlic after a couple of minutes.
Stir in the harissa, mix well to coat the onions.
Add the tomatoes and mushrooms and cook over a medium heat for 5 minutes.
Stir in the spinach and most of the Yellow Piquanté Peppers, reserving a couple for garnish.
Season to taste and then make 4 wells in the sauce and crack an egg into each.
Cover the pan and cook over a gentle heat for 5-10 minutes until the eggs are cooked to your liking.
Slice the reserved Peppers and scatter over the Shakshuka with the parsley. Serve with fresh crusty bread.
Breakfast, brunch, lunch, dinner.