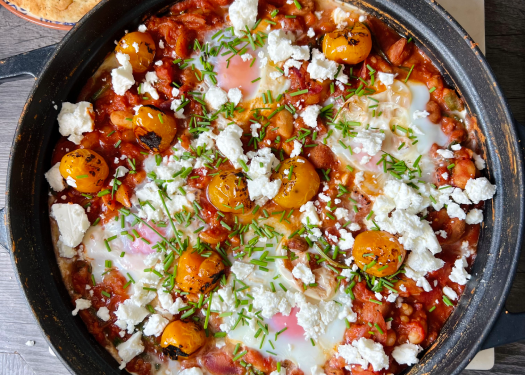 21 Sep

Smoky Bean & Yellow Piquanté Pepper Baked Eggs
Smoky Bean & Peppadew® Yellow Piquanté Pepper Baked Eggs
This easy one-pan brunch recipe features borlotti and white beans in a smoky tomatoey sauce studded with sweet, tangy PEPPADEW® Yellow Piquanté Peppers – topped with salty feta, fresh herbs and oozy baked eggs. Created by: @healthy_olivia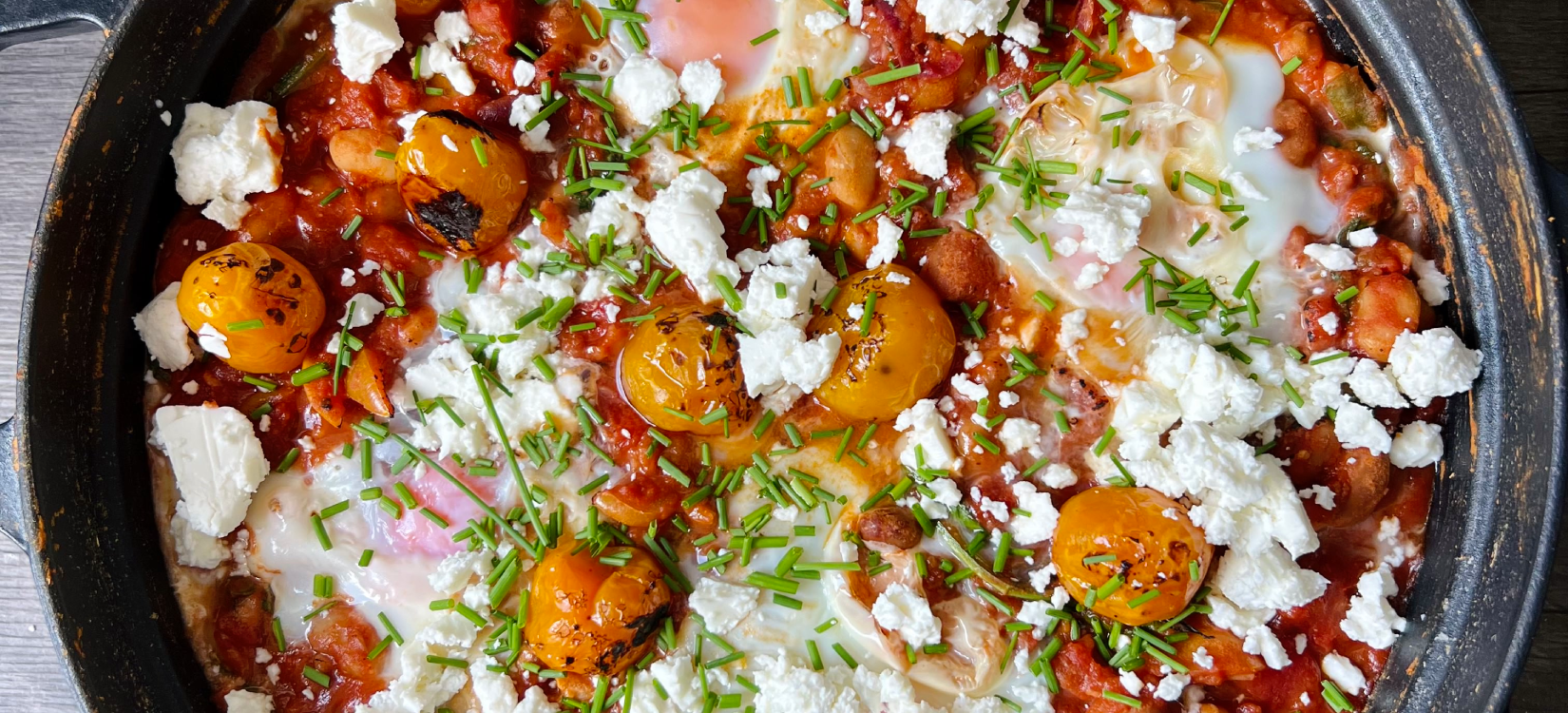 1 red onion
2 garlic cloves
2 tsp smoked paprika
1 tsp cumin
1/2 tsp chilli flakes
400g borlotti beans
500g Bold Bean Co organic white beans
800g chopped tomatoes
2 tbsp Dr Wills BBQ sauce
2 tbsp tomato purée
200g spinach
400g PEPPADEW® Yellow Piquanté Peppers (140g drained)
4 Clarence Court eggs
Fresh chives
100g feta
Maldon salt
Start by slicing your red onion. Dice your garlic. Drain and rinse your beans. Finely chop your chives. Drain and dice 2/3 of the Yellow Piquanté Peppers.
Over a medium heat, cook your onions in light olive oil until soft. Add your garlic and cook for 1 minute. Next, add your paprika, cumin and chilli flakes. Cook for 2 minutes. Add your diced Yellow Piquanté Peppers and cook for 2 minutes.
Next, add your borlotti beans, white beans, chopped tomatoes, BBQ sauce and tomato purée. Stir. Simmer for 15 minutes, stirring regularly.
Stir through your spinach until wilted, then season with sea salt and black pepper.
Using a spoon, create 4 wells in your beans and carefully crack in your eggs. Cover with a lid and cook until the egg whites are fully cooked – approximately 10 minutes.
Meanwhile, fry your remaining Yellow Piquanté Peppers in a griddle pan until charred.
Top your eggs with the charred peppers, fresh chives and a sprinkling of feta. Enjoy!
Serve with flatbread or toasted sourdough.